Canoe Craft Book and/or Film (Digital Download)
Learn how to build a canoe with Nick.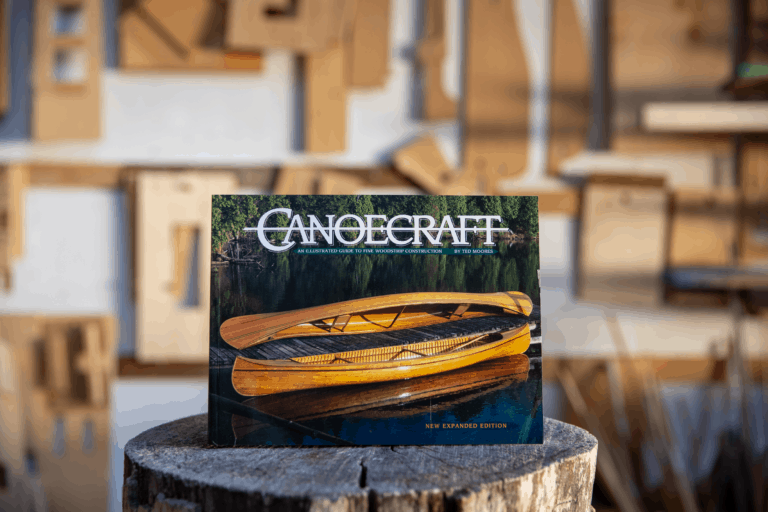 $20.00 – $52.00
Learn to build your own damn canoe with this instructable how-to pack. Includes Ted Moores' classic book "Canoecraft: An Illustrated Guide to Fine Woodstrip Construction" and the companion film "Fine Woodstrip Canoe Building" by Nick Offerman and his pal Jimmy Diresta.
Select either the book, the digital download of the film, or purchase both:
Particulars
Dimensions: 10.75" x 8" X 0.5"
About the Book
"Canoecraft: An Illustrated Guide to Fine Woodstrip Construction" by Ted Moores
The book is a visual guide that will give first-time builders the confidence to create a fine woodstrip canoe. Whether the goal is to build a general-purpose recreational canoe, or an efficient modern tripping canoe, or a full-decked fast-cruising canoe with walnut veneer, Canoecraft is the ideal guide to making it happen successfully.
Among the stories in this latest edition is one by Nick Offerman describing his involvement with Bear Mountain and the building of Huckleberry.
Pages: 240
First Published: 1983
Revised & Expanded: 2015
Specs: 37 color photographs, black and white photographs and diagrams throughout.
About the Film (Digital Download)
"Fine Woodstrip Canoe Building" by Nick Offerman & Jimmy Diresta
Nick was sequestered in New York City for a spell, so naturally, he decided to build a couple of canoes by hand. After reading Canoecraft he called up Bear Mountain Boats to purchase some plans–before he knew it he had been enlisted into producing an instructional video as a companion to the Canoecraft visual guide. In this video, with the help of the talented Jimmy Diresta behind camera, Nick shows how just about anyone with enough time and enough tiny clamps can build a beautiful cedar strip canoe in their own garage.
Format: Digital .mp4 download
Running Time: 136 minutes
The digital version of this video is provided as two zipped files that contains 24 .mp4 segments detailing each step of the building process. This format is supported by most devices.
NOTE: iOS users will require a separate app to download, unzip, and view these files. We recommend Documents by Readdle as a free, user-friendly, and reliable option.
Check Out the Canoe
Click here for more info and pictures of "Huckleberry", the canoe Nick built in his instructional film.
Shipping Info
We ship everything by USPS Priority Mail and every order receives a tracking number when your order ships.
All hand-crafted products are made to order. We aim to ship these within a week of receiving your order (unless something is on backorder OR a lead time state otherwise).
USA domestic orders arrive within 7-10 days or less.
International customers: Please allow 12-14 days for delivery. Other import charges may apply. Due to customs we cannot guarantee delivery by a certain date.