Knock-Down Dining Table
$

4,000.00
This Black walnut knock-down trestle is a sturdy and versatile table design that dates back to the Middle Ages. In our modern version, two tapered wood pins hold the components together with friction. These wedges can be easily removed with the tap of a mallet (or a ham hock) to break the base down into four portable flat pieces for easy storage, shipping, and modern nomadic living.  Quickly set it up for dinner and then knock it down to make room for the dance party.
Shipping info: Ships within four weeks. This product ships to US lower-48 states only. Contact us if you'd like it shipped elsewhere.
Dimensions: 64″ x 35″ x 30″
Simple Design
We like an elegant profile and a sturdy table. This piece has it all providing a robust surface with a refined stance.
Traditional Joinery
Utilizing the mortise and tenon joint with friction fit wedges, the base holds itself together. This classic joinery fits snug as a bug and won't give any fuss when you need to "knock it down".
Solid Wood
Our wood obsession means you won't miss out on the best selects of solid Black walnut possible for your dining surface. We wouldn't have it any other way.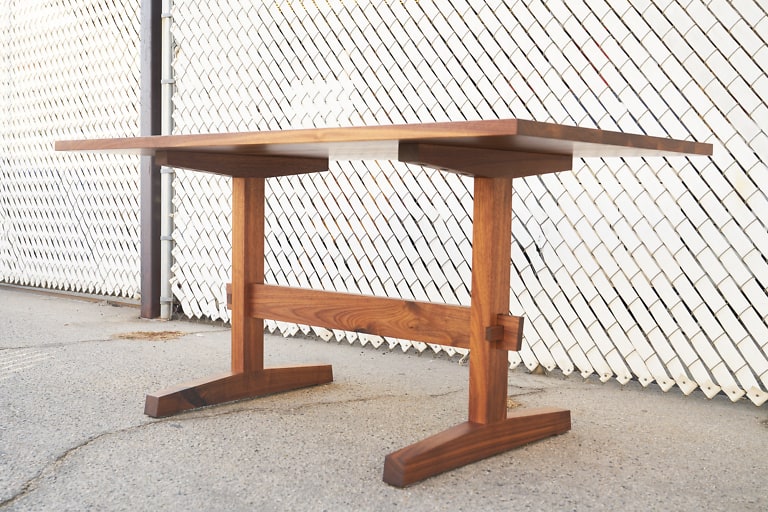 Beyond the Finish Line
Our hand rubbed oil finish is made of 50/50 spar varnish and hard oil. We use multiple coats to keep the wood well protected and to get the best glow out of your timbers.